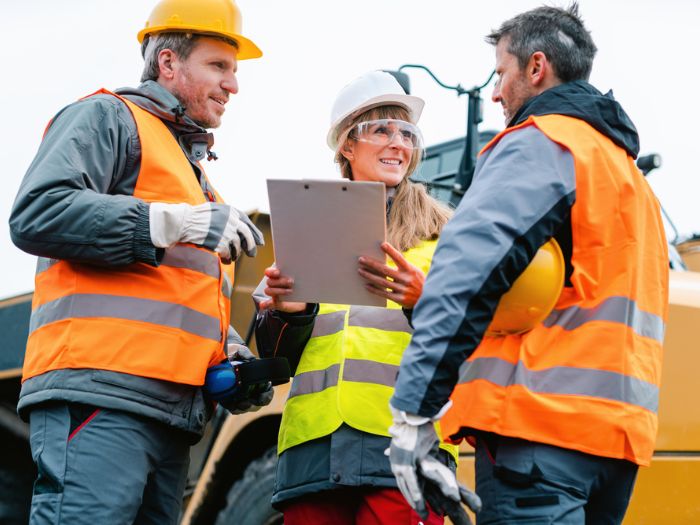 The mining industry, tradies, factory workers, hospitality workers, the transport industry, the health industry—there are many who benefit from pre-employment medicals.
To find out more about pre-employment medicals and how they work, we've called on our experts.
The team at Riverstone Family Medical Practice offers services ranging from management of acute & chronic conditions for men, women and children to preventative health and to workplace health.
Since 2007, we've had the privilege of providing countless pre-employment medicals in support of our community.
In this article, we find out:
What is a pre-employment medical
The benefits they offer
A case study highlighting the importance of pre-employment medicals
What is a pre-employment medical
Pre-employment medicals, also known as pre-employment health assessments or examinations, are a standard practice in many industries and organisations to assess the physical and mental health of individuals before they are hired for a job.
They can also be helpful before a promotion, taking on new responsibilities or starting a new project.
These medical evaluations ensure that current and prospective employees are fit for the specific demands of the work they are to perform.
What's involved
Pre-employment medicals typically involve questionnaires about health, a physical examination and a variety of screening tests and assessments that identify any existing health conditions, disabilities or potential issues that could affect an individual's ability to perform their job safely and effectively.
These assessments aim to ensure a match between the candidate's health status and the job requirements, not to unfairly discriminate against any candidate.
During a pre-employment medical, candidates may undergo a range of evaluations, including physical examinations, vision and hearing tests, drug and alcohol screenings, and assessments of cardiovascular and musculoskeletal health.
Depending on the nature of the job, additional assessments may be included, such as psychological evaluations or specific tests to determine a candidate's ability to operate heavy machinery or handle physically demanding tasks.
The results of these medicals help employers make decisions about whether someone is medically suitable for the job, whether any support might be necessary, and whether their health might be at risk given the job's demands.
The benefits of pre-employment medicals
There are a number of benefits that come with pre-employment medicals and help explain why so many Australian employers rely on them.
Risk Mitigation
Pre-employment medicals help identify potential health risks and medical conditions in candidates before they take on new and demanding work tasks.
This reduces the risk of on-the-job accidents, injuries or illnesses that could be aggravated by certain work environments.
Ensuring that candidates are physically and mentally capable of performing the essential duties of the job is vital for their safety, well-being and effectiveness.
Legal Compliance
In some industries, especially those with safety-sensitive positions, pre-employment medicals are legally mandated to ensure that employees can perform their jobs safely and without posing a risk to themselves or others.
This applies to some mining and manufacturing positions in Australia as one example.
Minimising Lost Hours
Assessing candidates' health before hiring and commencing work can help reduce sick days due to health-related reasons.
This is particularly important in roles where frequent absences could disrupt operations.
Improved Workplace Safety
By identifying potential medical conditions or limitations, you can make necessary adjustments or modifications to the work environment, ensuring that employees can work safely and comfortably.
Health Promotion
Pre-employment medicals can also educate employees about their health status and promote healthy lifestyle choices.
This contributes to a culture of wellbeing within an organisation.
Further still, there have been many cases where pre-employment medicals actually find unknown health problems and steer people onto healthier lives.
Cost Savings
Identifying potential health issues early can prevent costly workers' compensation claims, medical expenses and litigation that might arise from workplace accidents or incidents related to undisclosed health conditions.
Put simply, pre-employment medicals lead to:
Safer work environments
Employees fit for their roles
Reduced time off and medical/accident costs
Case Study: Enhancing Workplace Safety through Pre-Employment Medicals
Industry: Manufacturing
Location: Regional NSW
Background: This organisation specialises in producing heavy machinery for construction and mining applications. Safety is a paramount concern due to the high-risk nature of the machinery operation and the physically demanding tasks involved in the assembly process.
The management team understood the importance of ensuring that new hires were physically capable of safely performing their assigned roles.
Challenge: With an increasing demand for its products and a growing workforce, Operations faced the challenge of maintaining a safe work environment while meeting production targets.
Leadership was concerned about potential workplace accidents, injuries and associated costs if employees were not adequately fit for the demands of their jobs.
Solution: Management implemented a comprehensive pre-employment medical assessment program for all new hires across various departments, including assembly, machining, and quality control.
The medical assessments were tailored to each job's specific requirements, encompassing physical fitness, musculoskeletal health, vision, hearing, and more.
Results:
Lowered Absenteeism
The assessments helped prevent absenteeism, leading to fewer disruptions in production schedules.
Higher Productivity
With employees better suited for their roles, productivity increased as tasks were performed efficiently without the hindrance of undisclosed health issues.
Cost Savings
The above translated into substantial cost savings in terms of medical expenses and operational disruptions.
Employee Morale
Employees felt that their safety was valued by the company leading to improved morale and a positive work culture.
Conclusion: The implementation of pre-employment medical assessments showcased how prioritising employee health and safety can result in a range of benefits.
The company not only improved workplace safety but also experienced enhanced productivity, reduced costs and a stronger sense of employee engagement.
Pre-employment medicals at Riverstone Family Medical Practice
We offer a range of services for employers that can be tailored toward the particular industry and requirements.
Our team is experienced in carrying small, medium and large-scale pre-employment medicals in a fast but comprehensive way to suit all circumstances.
If you'd like to discuss how your work environment and those operating in it could benefit, get in touch with us today.