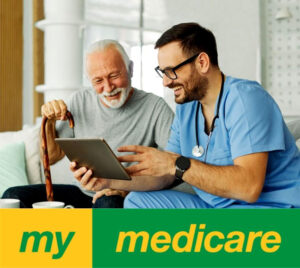 Benefit for patients:
• greater continuity of care with your registered practice, improving health
outcomes:
• longer Medicare Benefit Scheme (MBS) funded telehealth consultations with
your GP: Now our pensioners/concession card holders will be able to book a Bulk
Billed longer Telephone consult with their doctors. No need to travel to the
practice for your consults unless advised by your doctor.
• triple bulk billing incentive for longer MBS consultations for children under
16, pensioners, and concession card holders, from 1 November 2023 – Your
doctor is likely to be able to continue providing clinical care without charging a
gap fee.
• more regular visits from your GP and better care planning for people living in a
residential aged care home, from August 2024
• connections to more appropriate care in general practice for people who visit
hospital frequently, from mid-2024
How to register:
There are multiple ways you can register with your chosen practice in MyMedicare:
• Start the registration process in your Medicare Online Account or Express Plus
Medicare Mobile app. Once done, practice staff will then accept the registration in
the MyMedicare system.
• If unable to register online for any reason, our patients will be able to complete a
form at the practice and staff will then register them online in My Medicare
system.
• For more information on how to register, go to this link: How to Register for MyMedicare
Registering with a Medicare Card or DVA Veteran Card
If you hold both a DVA Veteran Card and a Medicare card, you can register using
either. You can only have one registration, which will apply to any relevant Medicare
and/or DVA-funded service, regardless of which card you use to register.
If you choose to register in MyMedicare with a DVA Veteran Card, you will need to
complete a registration form at your chosen practice.
Withdrawing Your Registration
You can choose to withdraw from MyMedicare at any time.
If you register at a different practice, this will automatically withdraw any previous
registration and notify the practice.
If you want to withdraw your MyMedicare registration, you can either:
• withdraw from MyMedicare using their Medicare Online Account or Express Plus
Medicare Mobile app.
• contact your GP or practice and notify them that you want to withdraw your
registration from MyMedicare
• contact Services Australia directly and request to have your MyMedicare
registration withdrawn.